Foaming Scrubs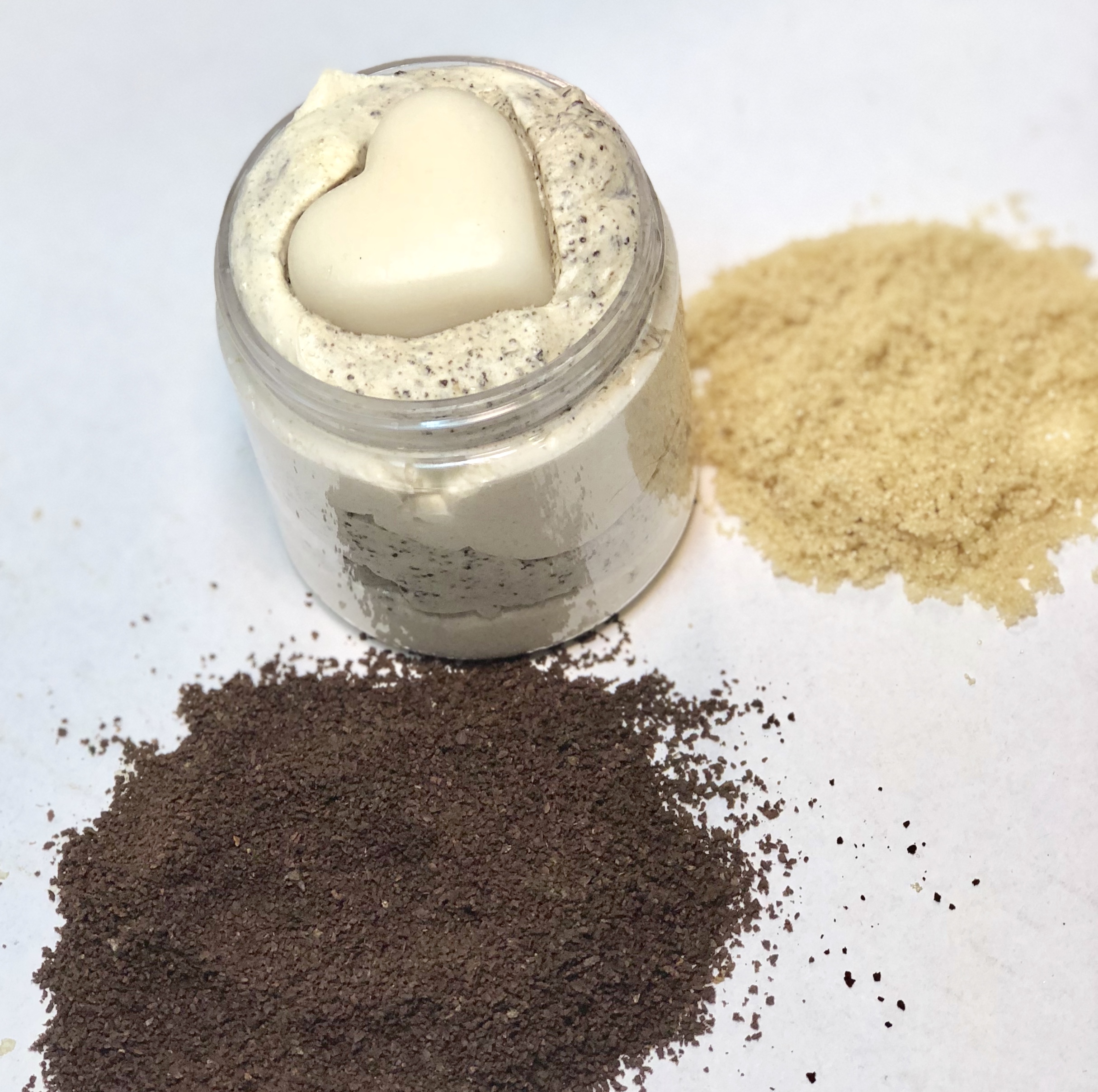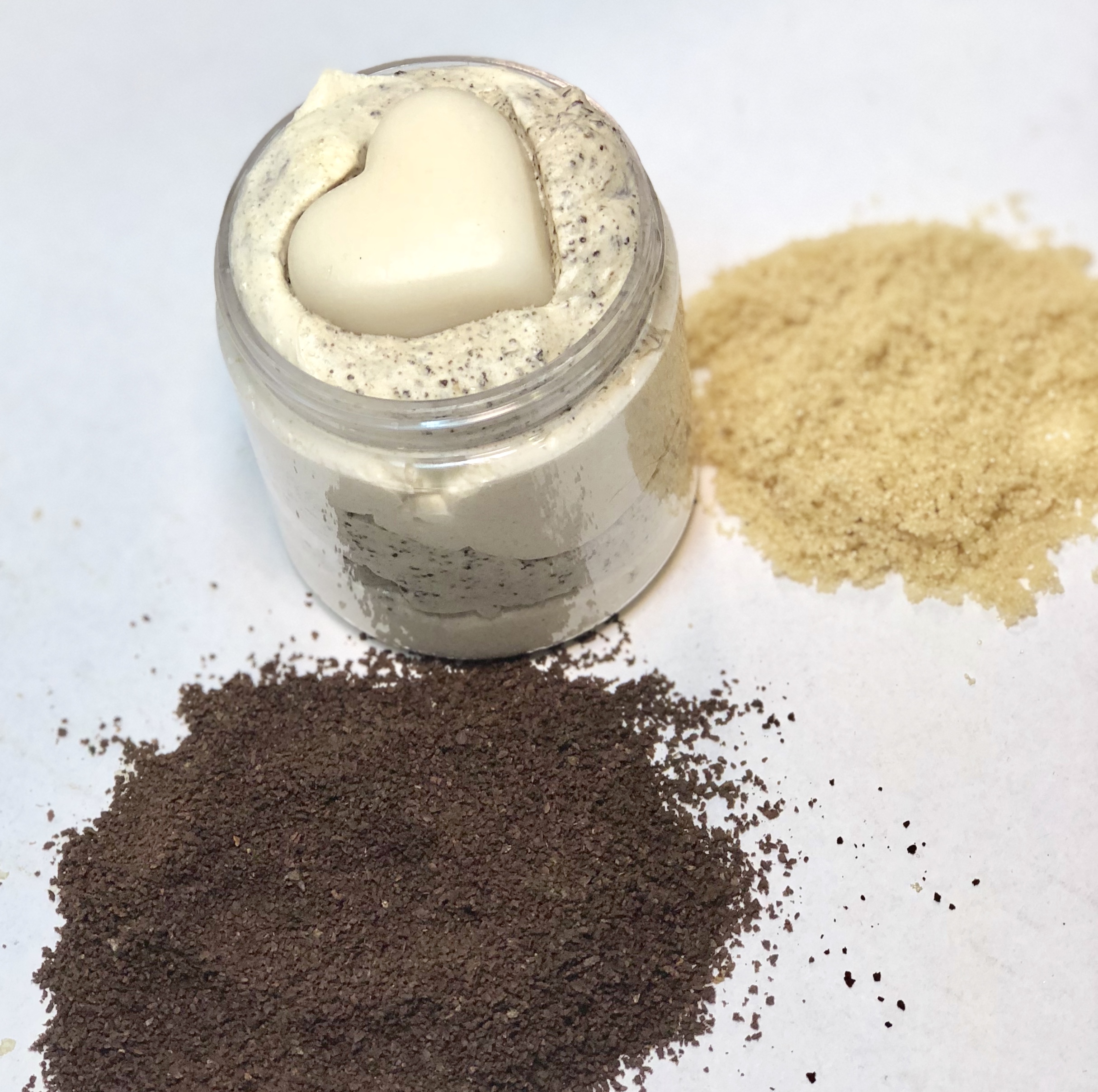 Foaming Scrubs
These luxuriously textured scrubs go from creamy whip in the jar, to exfoliating on your damp skin, and once wet, turn in to bubbly & cleansing wash. Formulated with just the right amount of exfoliation, our Whipped Scrubs are gentle enough for everyday use and will leave your skin clean, and supple, revealing a glowing complexion.
While many Artisans choose to utilize a pre-made base for their Whipped (surfactant-based) Scrubs, we choose to make ours from scratch. Whipped to perfection, our Scrub glides on skin, feeling like buttery-magic. When wet, the Scrub will bubble and rinses away clean.
To Use: Scoop out the desired amount of product, scrub in circular motions. Wet hands and continue to scrub. The product will NOT leave the floor of your shower greasy.
NOW Available in 3 oz Mini Size or 7.5 oz Jars
Net Wt
Available Scents Include:
Mint Julep- Refreshing Peppermint and Spearmint, collide with bursts of Lime and hints of Bourbon Vanilla. A unisex scent, that will remind you of summer at the Shore. Complete with Sugar and Salt grounds.
Gardener's Scrub- A scrubby blend of Pumice stone, Poppy Seeds and Sea Salt combine with the de-greasing power of citrus oil, to gently remove dirt and oils. Scented with hints of sweet orange, fresh Tea Tree and earthy Lavender.
Caffeina- The patroness of coffee, tea, and other caffeinated drinks or foods, Caffeina is the Roman goddess of energy, stamina, and determination. Usually portrayed as a beautiful woman rising from a coffee cup, the goddess Caffeina gives clear thought, energy and creativity. This scrub is a delicious exfoliating blend of Brown Sugar and fine grain Coffee, scented with Coffee extract and sweet Benzoin. Made with pure Arabica oil, which possesses properties to nourish and moisturize. Arabica oil is exceptionally high in its composition of essential fatty acids, which may help restore skin's own elasticity and tone.
Fọ (Wash)- Formulated with detoxifying Activated Charcoal, Tea Tree oil and natural Sea Salt. Gently buff and wash away toxins, dirt, and impurities with our Fọ scrub.
Turkish Rose- Did you know that most of the world's Roses are harvested in Turkey. Turkey is also where most of commercial Poppy Seeds are farmed. Our Turkish Rose Whipped Scrub is scented with a beautifully delicate blend of Rose Oil, Bergamot, and sweet Benzoin and features a gentle exfolient of Poppy Seeds and Sugar.
Mint Julep ingredients- Sucrose, Sodium Cocoyl Isethionate, Glycerin, Distilled Water, Cocamidopropyl Betaine, Stearic Acid, Safflower Oil, Mentha Piperita (Peppermint) Oil, Mentha Viridis (Spearmint) Leaf Oil, Citrus aurantifolia (Lime) Oil), Phenoxyethanol, Ethylhexylglycerin (preservative)
Caffeina- Ingredients: Sucrose, Coffee Coffea Arabica (Coffee), Sodium Cocoyl Isethionate, Glycerin, Distilled Water, Cocamidopropyl Betaine, Stearic Acid, Safflower Oil, Coffea Arabica (Coffee) Seed Oil, Benzoin, Coffea Arabica (Coffee) Seed Extract, Propylene Glycol, Diazolidinyl Urea, Iodopropynyl
Fọ (Wash) Ingredients: Sucrose, Pumice, Sodium Cocoyl Isethionate, Glycerin, Distilled Water, Cocamidopropyl Betaine, Stearic Acid, Safflower Oil, Tea Tree Oil, Activated Charcoal, Olive Oil, Propylene Glycol (and) Diazolidinyl Urea (and) Iodopropynyl Butylcarbamate (preservative)
Turkish Rose Ingredients: Sucrose, Sodium Cocoyl Isethionate, Glycerin, Distilled Water, Cocamidopropyl Betaine, Steric Acid, Rice Bran Oil, Alkanet Root (colorant), Rosa Damascena Flower Oil, Cananga Odorata Flower Oil, Benzoin, Chamomile Oil, (Roman), Papaver Somniferum Seed, Citrus Aurantium Amara (Neroli) Oil, Propylene Glycol, Diazolidinyl Urea, Iodopropynyl Butylcarbamate (preservative)
Sweet Grass Ingredients: Ingredients: Sucrose, Sodium Cocoyl Isethionate, Glycerin, Distilled Water, Cocamidopropyl Betaine, Steric Acid, Rice Bran Oil, Alkanet Root (colorant), Cymbopogon Schoenanthus (Lemongrass) Extract, Ocimum Basilicum (Sweet Basil) Oil, Propylene Glycol (and) Diazolidinyl Urea (and) Iodopropynyl Butylcarbamate (preservative)
Gardener's Scrub- Ingredients: Pumice, Sodium Cocoyl Isethionate, Glycerin, Distilled Water, Cocamidopropyl Betaine, Stearic Acid, Safflower Oil, Citrus Sinensis (Sweet Orange) Oil, Melaleuca Alternafolia (Tea Tree) Leaf Oil, Lavandula Angustifolia (Lavender) Oil, Propylene Glycol, Diazolidinyl Urea, Iodopropynyl Butylcarbamate (preservative)